In the era of Information and Technology, a good project outcome often requires multiple teams to collaborate with each other and a good information sharing. A good collaboration platform not only supports the work of the participants, but can also be a powerful management tool for team leaders. At Tracup, the project overview can provide managers with a comprehensive view of the programme.
In the post-epidemic era, the impacts of remote working pattern are much greater than people anticipated. Many multinational companies, such as Microsoft, have issued many new guidelines to allow employees to work remotely permanently or temporarily. In this context, it is particularly important for team members and managers to implement effective team project management in a rational and effective way. As one of the leading platforms in the industry, Tracup is committed to providing effective solutions for team collaboration.
How does program overview be helpful?
At Tracup, a complete teamwork approach is provided. The platform not only includes features for developers such as task lists and file sharing, but also provides team leaders with an overview of the entire project.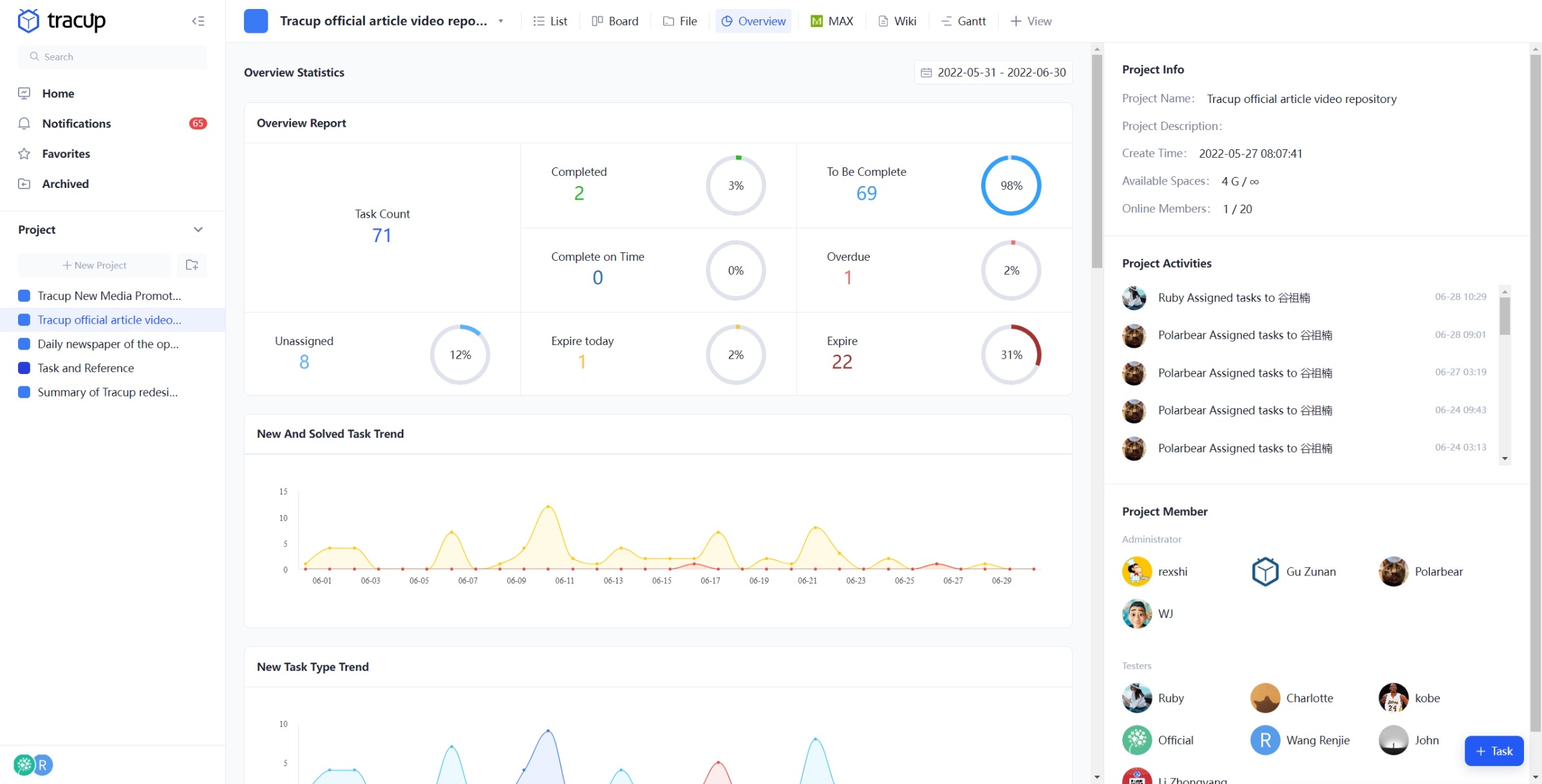 Compared to the editorial features of lists and Kanban, the overview tends to provide participants with a comprehensive view to plan a better future development. In the overview area, developers can view all the information about the project. Includes but is not limited to charts, percentages, task members and project activities. Charts based on different data, such as types, team members and priorities, can provide a full range of information for team members and leaders. Meanwhile, detailed project activities record all changes in detail, which allows participants to track the progress much better. In addition, by combining it with features such as lists and Kanban, developers can efficiently check the progress of tasks and prepare the next phase of work.
For Tracup, the work of developers and the management of administrators are equally important. They complement each other and cannot be separated into individual parts. With Tracup, work could be easier and more efficient, better teamwork and information communication could result in positive outcomes. For more information, please visit our website: Tracup.