#Start With @, Tracup Makes Work Collaborative
How to create a collaborative approach at work? To do this, you must establish roles clearly on the goals and let everyone knows the "big picture", it makes the daily work and your direction much easier to follow.
"Make the best use of tools, double the result with half the effort."
Task management is a complex art, and because of its complexity, there are always so many problems to overcome.
For example, verbal assignment of work, incomplete understanding, easy to miss, not supported by evidence, and no accountability. The work is broken down into multiple people, each doing their own work, and there is no way to track the progress and synchronize the results. What to do?
Thus 'how to' issues may be solved by trying to use tools.
##Create Tasks
For example, if you assign work verbally, your colleagues will not understand it thoroughly and you can easily miss it, perhaps you can create tasks with tools.
Suppose you suddenly have an idea and want to assign it to a colleague, you can of course leave a WhatsApp voice message or a text.
However, both of you may have too many messages, this will have two risks. First, you may forget; second, he may forget. It is likely that neither of you will actively think about it. So what to do?
In Tracup, create a 'task' and set up the task, executive, and deadline (What, Who, and When). When your colleague receives a 'New Task Alert', he or she can drag it from the 'Pending' lane to the 'In Progress' lane.
All tasks can only be completed or canceled but never forgotten.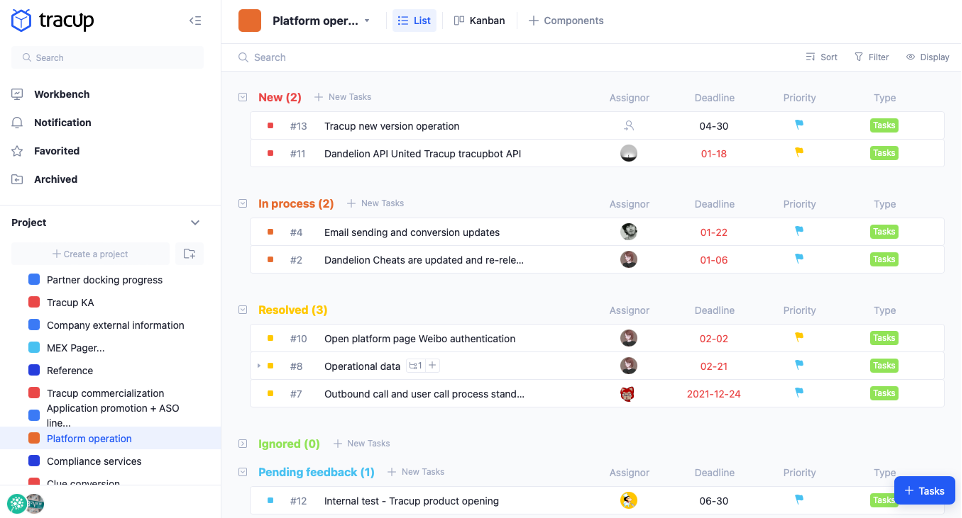 ##Task management
The key issue for most knowledge workers and developers is that they have so many things to do but less time. How to solve it? With the help of tools.
Good tools and methods can help us get things done better, save time and improve efficiency.
Tracup, a familiar collaborative workspace, is perhaps a multifunctional Swiss army knife.
The three key capabilities that Tracup has, task tracking, project managing, and work collaboration, can be used by any team or solo startup without building or deploying, opening a browser, and using the fragmented time to check the progress of projects anytime and anywhere.
Tracup is not only suitable for technical teams, but also for product and operation teams. Each task can be easily set as type, status, priority, assignment, version, module, deadline time, etc. Multi-project management and workspace partitioning can be seen at a glance so that countless excel tables cannot withstand a Tracup work interface.
Tracup contains major functions such as task system, project management, data statistics, file sharing, plug-in system, and team collaboration. The overall layout and function settings are designed to meet the preferences and comfort and convenience of technical staff, truly enabling everyone to achieve elegant and efficient work.
In the search for more geeky ways to work, Tracup is also doing its best to explore and develop features until they go live, easily scaled by referring directly to the API interface.
###Making collaboration more productive for developers and knowledge workers with @, Tracup API and linked productivity tools, are just the beginning …
As digitization continues to accelerate, at and after the COVID, enterprises, organizations, and governments, more and more work requires multi-threaded remote collaboration to get it done, and productivity tools are getting a fast track opportunity to grow.
But most tools address a single aim or area, the products tend to be relatively simple and lightweight, allowing users to use them quickly. Team members use different tools every day for their work, including chat, meeting, communication, email, scheduling and document management, etc.
Tools are often independent of each other, which creates a new productivity problem where people must rely on these fragmented tools to perform each task and have to frequently switch between different products in the workflow, resulting in varying degrees of impact on the overall cost, efficiency, management, security, and attention, which can become very inefficient, and improving productivity through tools while bringing more work on tools to work.
Tracup is a productive workspace that integrates the flows of tasks, projects, work, and even your personal issues of study, life, and entertainment in a whole new way. The platform's core focus is to overcome the fragmentation and disconnects caused by existing solutions. Manage your tasks, calendars, reminders, and notifications in personal and work life - all in one place. Choose the features you want to use and customize Tracup the way you want.
Tracup collaboration workspace meets the needs of mixed development environments and digital work in different scenarios such as centralized, remote, and isolated with an uncertainty of the current COVID, connecting tasks, projects, code, requirements, defects, and iteration management, evaluation management for people and workflow, providing multiple project templates such as agile, waterfall, generic task collaboration, etc.
The standard functional configuration of team collaboration includes a dashboard, task list, views, Gantt charts, statistics, reminders, etc. Any team can plan, organize and collaborate for a common goal to collaborate on the corresponding tasks in each session.
Managers can assign tasks to specific groups and team members, prioritize tasks, configure notifications, create customizable views and share them to better understand what is happening in the current project and the real progress of the whole project, and make timely provisioning and changes if needed. Produce more in less time by combining the tools you use every day into an intuitive and powerful workspace.