When we meet a friend who we haven't seen for a long time, we would ask "hey, what project are you working on recently?". This has probably become a basic greeting in the workplace. The origins of projects can be considered to have existed since the beginning of human activity, while the history of project management is much shorter.
What exactly is project management?
Firstly, let us distinguish what is a 'project'? And what is 'project management'?
A "project" is a temporary effort to complete a unique product or service. During the implementation of a project, it is common to meet with problems that would inhibit the process.
"Project management" refers to the application of professional knowledge, skills, tools and methods to project activities. Enabling projects to achieve or exceed set requirements and expectations with high quality and efficiency within a limited resource and time period.
What are the origins of project management?
Regarding the origins of project management, most people believe that it was originated during the Second World War, " in the midst of a disorderly war, orderly project management was born".
In the 1950s, the initial application areas were defence, construction and astronautics, but project management became popular around the world as a result of the great success of the Apollo moon landing project in America. People from different regions began to be interested in project management.
What are the contents of project management?
Project management consists of nine components: scope management, time management, cost management, quality management, human resource management, communication management, risk management, procurement management and integration management.
Project scope management is the management process of controlling the project's work content to achieve objectives, including scope definition, scope planning and scope adjustment.

Project time management is a series of management processes designed to ensure that projects can be completed on time, including the identification of specific activities, such as activity sequencing, time estimation, scheduling, time control and other tasks.

Project cost management is the process of ensuring that the cost of completing a project will not exceed the budget. It includes the allocation of resources, the budgeting of costs and expenses and the control of costs.

Project quality management is a series of management processes implemented to ensure that a project can meet the quality requirements set by clients.

Project human resource management is a set of management measures to ensure that the abilities and motivations of all project stakeholders are utilised to the highest level. It includes a range of tasks such as planning the organisation, establishing the team, selecting and recruiting staff.

Project communication management is a series of measures that are implemented to ensure the proper collection and transmission of information for a project. It includes communication planning, information transmission and progress reporting.
How to implement project management?
In the new era, the development of project management has become global, diversified and specialised, and it has evolved faster than expected. New opportunities are presented by new eras. Project management has become an essential management skill for almost all industries and has developed into a systematic, scientific system of professional knowledge.
In the internet age, project management progress is best aided by tools. For example, at Tracup, managers can view what projects are running across the company and what progress is being made. Whether you want to fix a bug or add a new feature, Tracup is the ideal work cloud platform for you. Convenient teamwork, lightweight project management, a complete issue system and large file storage - collaboration should be such simple.
The secret of Tracup's support for efficient working is…
Problem systems - problems arise frequently and are often difficult to solve
Within Tracup, you can manage issues in a flexible and varied way. The convenient bug submission method makes it easy to record issues.
Issue attributes such as priority, type and status allow you to understand the issue more intuitively. Meanwhile, you can add comments or notes at any time.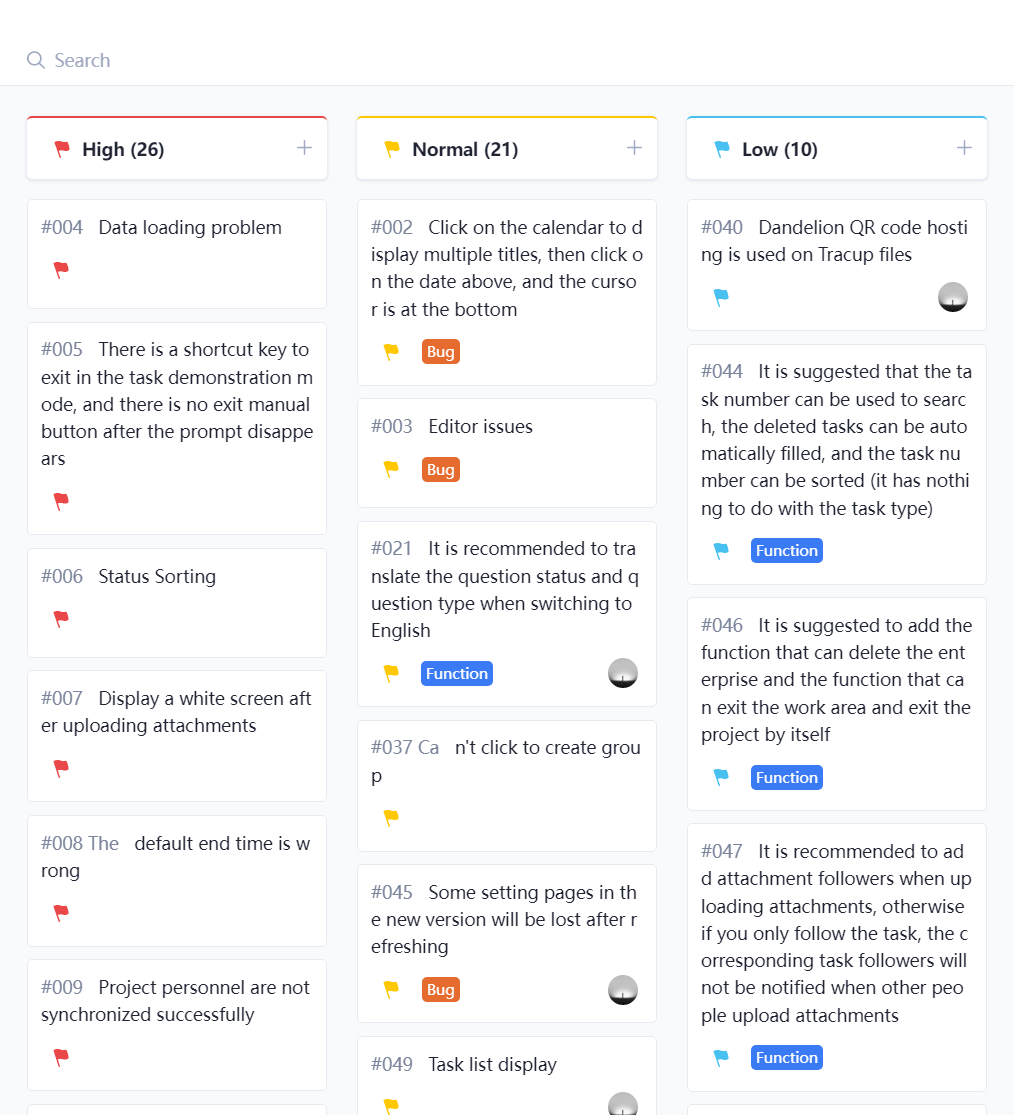 Project Management - Management is science, and science is the best guarantee for a project
Tracup offers scientific project management. It supports quick creation of projects in a variety of ways, with an easy start in a minute. With just one Pgyer account, you can manage both the projects you create and the ones you participate in.
In this case, project statistics, developments, members and issues are all available at a glance. Starred projects, customised project grouping and sorting make project management more scientific and interesting.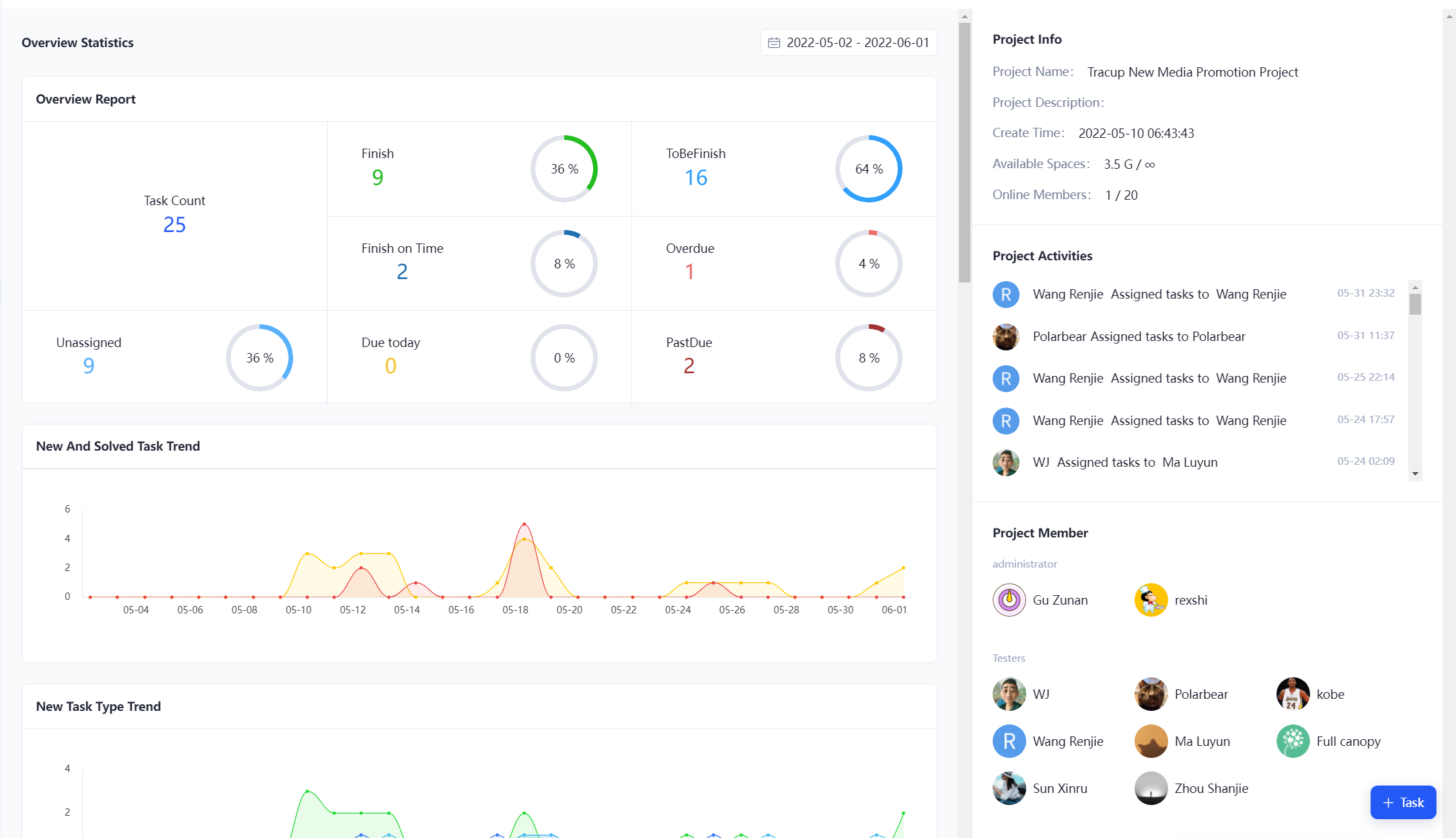 File sharing - speeding up information transfer and making communication more efficient
Tracup provides a file repository that can be used as a network drive for projects, with stable and secure storage security, support for high-speed uploading of files in multiple formats, and access or download anywhere, as well as online preview and cloud viewing of files, and enough file storage space to bring unlimited file sharing.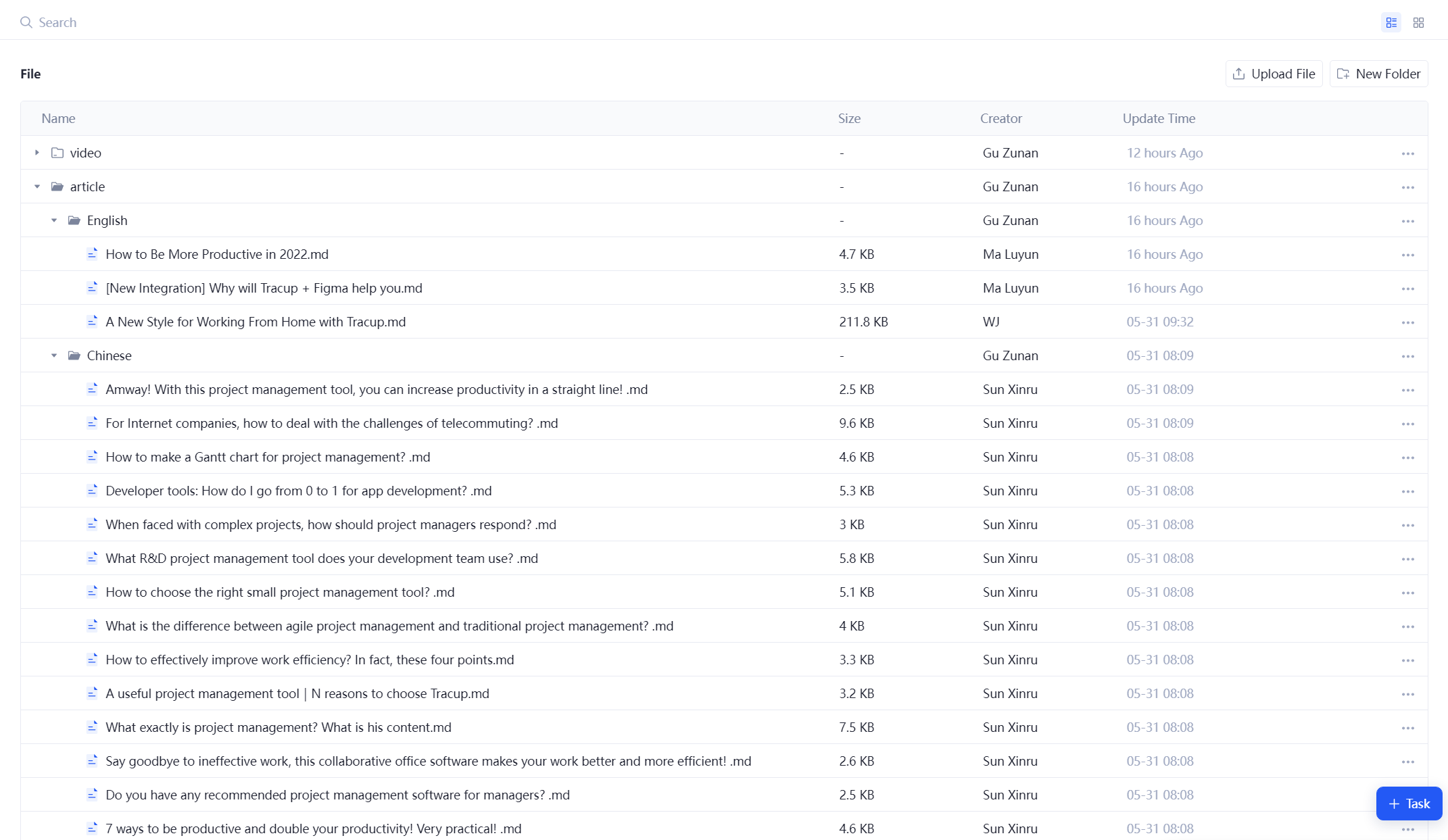 Plugin system - little plugins, but big uses
Tracup has prepared plugins specifically for browsers. No matter you are using Chrome, Firefox, Safari or Opera, you can search and install them directly from the plugin shops of these browsers.
Click on the plug-in to point out the problem in an in-browser screenshot and submit the problem directly to your project.
Teamwork - taking teamwork to a higher level
Tracup's design in the cloud solves the big problem of collaborating and working off-site.
Efficient communication and real-time tracking of projects allows members from anywhere to work together seamlessly, providing a more convenient and efficient working environment for more developers.
When traditional Excel and report management no longer keep up with the pace of the project
When you feel you don't have full control of your project and information is not transparent
Don't worry!
Tracup has prepared the most humane solution
Statistics - a good statistical chart will help us to make right decisions
Tracup has prepared very useful data charts for you. Not only can filter the data by version and date range, but also allows the export of statistical charts to give a global view of the completion of each project and each member.
Time view (Gantt chart) - project time at a glance to help rationalise resource allocation
With the visual time view, it is possible to visualise each member's work schedule and load, allowing for better project planning and deployment of resources and a clear view of project progress. Meanwhile, administrators can keep track of progress through the task time view, ensuring that each task runs according to the schedule.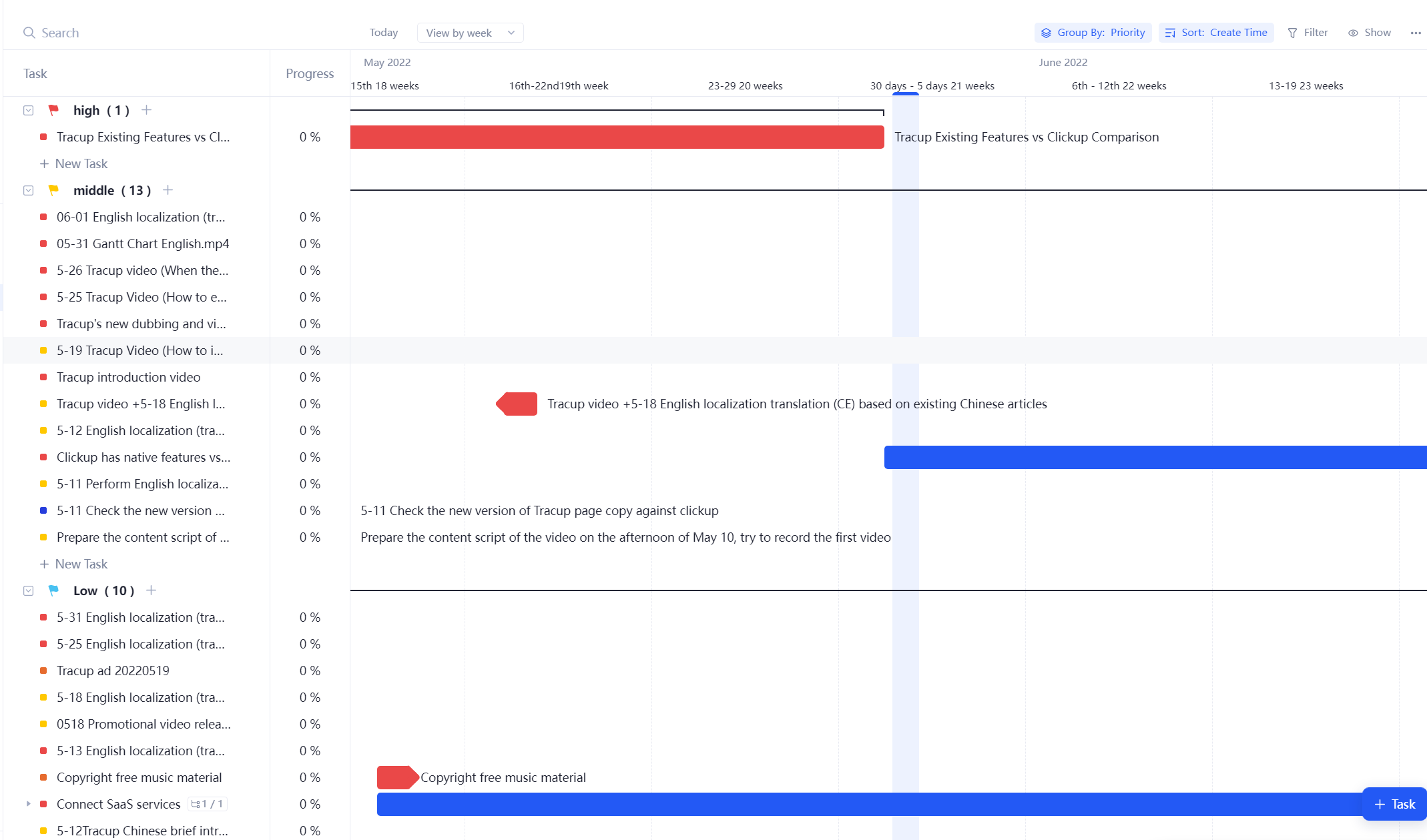 Personal task management - keeping things in order
Providing task members with precise filtering of issues, personal workstations, personal calendars and many other implementation options. This allows employees to focus on viewing their own or a specific member's work schedule and progress, and achieve easy planning of individual tasks at the same time.
Apart from the above, Tracup has prepared many practical features
For example, task calendars, role management, version management, etc.
The value of tooling is clear, no matter it is for schedule management, risk management, planning or any other aspect. Just like Tracup, which is a tool for the whole process of software development project management.